From the Shelf
In Praise of Engineering
National Engineering Week (February 17-23) calls attention to the remarkable societal contributions of engineers. It always falls on the day of George Washington's actual birthday, February 22, because Washington is widely considered to be the nation's first engineer. While in office, President Obama implored young people to enter careers in engineering, citing a dire shortage of technically trained Americans. It worked--the field has been growing steadily for some years which is good news for our nation's future.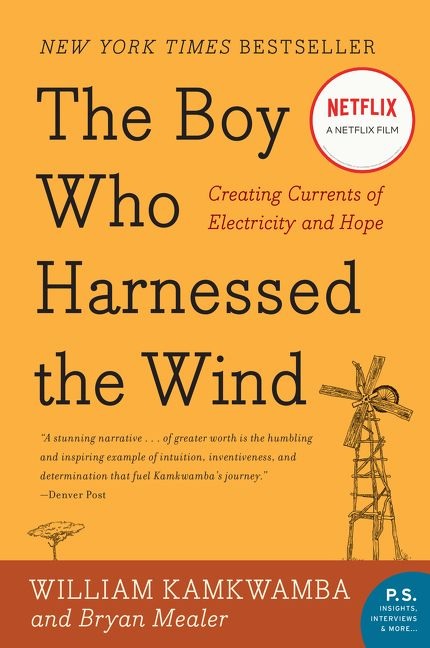 For an inspiring glimpse into what even rudimentary technical skills can accomplish, engineers and non-engineers alike will enjoy The Boy Who Harnessed The Wind: Creating Currents of Electricity & Hope (Morrow, $15.99) by William Kamkwamba and Bryan Mealer, about a young boy in Malawi, in Africa, who built a windmill by himself. The electricity generated by this homemade windmill powered his village's water pump, which in turn meant that his family and their neighbors could water their crops and grow food.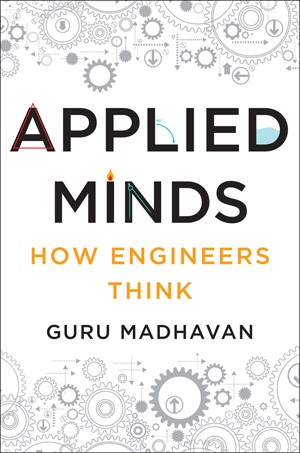 For those without a technical education, the field of engineering can be a mystery. That's where Applied Minds: How Engineers Think (Norton, $16.95) comes in. Author Guru Madhavan answers the question, "What do engineers actually do?" with examples of innovative achievements of the profession's best and brightest. Bonus: he shares his vision for deploying engineering methods to solve all sorts of global problems.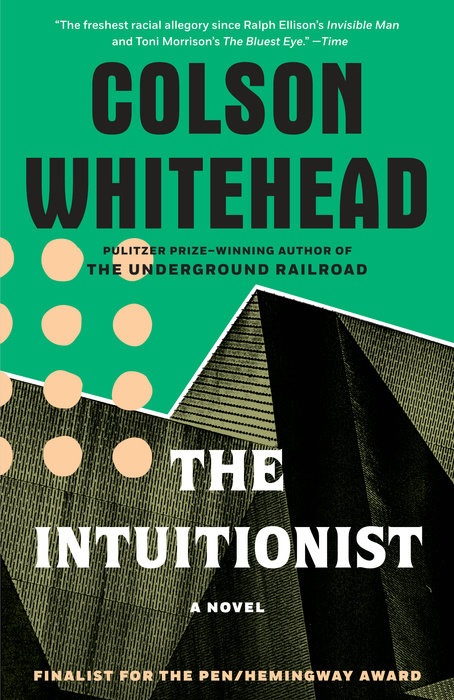 The world of fiction contains its fair share of engineers, too. The heroine of Colson Whitehead's first novel, The Intuitionists (Anchor, $16), is an unusual type of elevator inspector. She focuses on the machine's psychic vibrations and her own gut feelings instead of traditional engineering analysis to diagnose system errors and is very successful at her job. It is a good reminder that engineers who acquire soft skills such as interpersonal communication and empathy are often more effective than those who rely on technical skills alone. --Shahina Piyarali, writer and reviewer
In this Issue...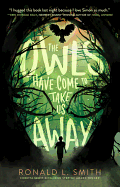 In this riveting middle-grade novel, a sensitive, nervous boy is convinced aliens are tracking him with sinister intentions, but his family thinks he's overly imaginative and anxious.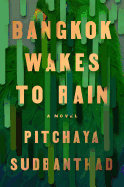 Bangkok Wakes to Rain is an elegiac novel that beautifully depicts the Thai capital from the past into the near future.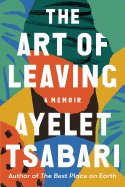 An Israeli Canadian author explores her upbringing and the death of her father in this stark, beautiful memoir.
Review by Subjects:
Fiction ⋅ Mystery & Thriller ⋅ Science Fiction & Fantasy ⋅ Biography & Memoir ⋅ Children's & Young Adult

Book Candy
Karl Lagerfeld's 300,000-Volume Library

Great Reads
Rediscover: W.E.B. Griffin
W.E.B. Griffin, the prolific and bestselling author of military novels, died February 12 at the age of 89. Born William E. Butterworth III, he enlisted in the Army just before his 17th birthday and later served in the Korean War. He eventually wrote more than 200 books as W.E.B. Griffin and under various other names.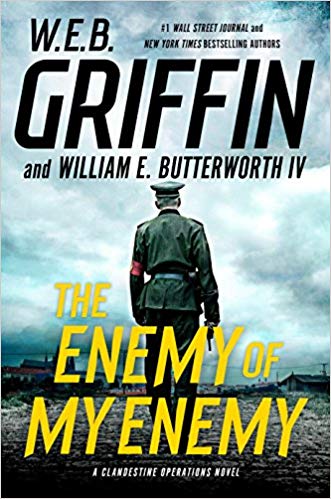 Griffin's many popular series included The Corps, Brotherhood of War, Badge of Honor, Men at War, Honor Bound, Presidential Agent, and Clandestine Operations. More than 20 novels, including The Attack, which will be published August 27, were written with his son, William E. Butterworth IV. Under his own name, he wrote several sequels in the 1970s to Richard Hooker's book M*A*S*H, which had been adapted into the hit movie and TV series.
Observing that more than 50 million copies of Griffin's books are in print in many languages, including Hebrew, Chinese, Japanese and Hungarian, a spokesperson for Putnam, his publisher, said the author was "known for his historical accuracy, richly drawn characters, thrilling adventure, crackling wit and astute aptitude for the heart and mind of a military hero" and "delighted readers for decades with his electrifying novels about the military, police, spies and counterspies."

The Writer's Life
Marlon James: I Don't Feel the Need to Reinvent the Hyena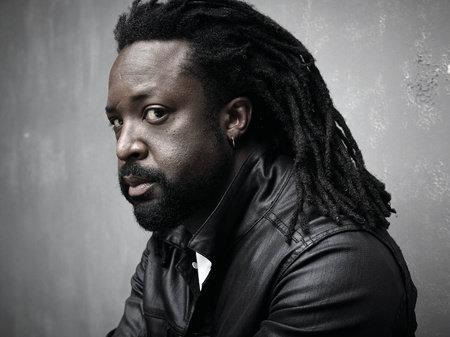 photo: Mark Seliger
Marlon James is the author of four novels, including the 2015 Man Booker Prize winner A Brief History of Seven Killings. His new novel, Black Leopard, Red Wolf (Riverhead, $30; reviewed below), is the first in the Dark Star trilogy, an epic fantasy series set in an ancient Africa populated by gods and mythological creatures. James was born in Jamaica, and now lives in Minneapolis, where he teaches literature at Macalester College.
For a lot of people who read A Brief History of Seven Killings, the new novel might seem like a change of pace. Did Black Leopard, Red Wolf feel like that to you?
Well, I think there are two ways to answer that. One: Brief History was a change of pace from my previous novel. My previous novel was set almost 200 years before Brief History. Which in itself was different from my first. As a writer, I do sort of prefer to go all over the place instead of being known for a specific period or a specific style of writing. I write the way in which I read, and my reading tastes are pretty omnivorous. So, my writing subjects are pretty omnivorous as well.
That said, for me it doesn't seem like as big a jump. There are always supernatural elements in all the stuff I've written, and I'm also ultimately writing these alternative versions of the past. I've been called a historical novelist, which is not a definition I refuse. But in a lot of ways, even though this is a fantasy novel, it's still recapturing and kind of inventing a past. So, for me, it doesn't seem like that big of a jump and I'm still interested in all the things I'm interested in in my other novels. I'm interested in voice; I'm interested in how humans behave with each other. I'm interested in society and violence and love, and all the other things that I think I've explored before I still explore in this one--even if there are monsters and supernatural creatures in it.
Do you think of this book as fitting in the fantasy genre? Are you comfortable with that label?
I'm very comfortable with that label, because I'm a huge fan of sci-fi/fantasy and a huge fan of crime and all these so-called genre books. I'm honored to be put in that genre. It's because my love for those genres, my love for those stories, is real, has always been real. And they still add up to some of my favorite stories and films. And even when I wasn't writing in that genre, there were things I learned from it. My third novel, Brief History, owes a huge, huge debt to crime fiction, so it's not something I shy away from; it's something I hope I'm lumped into.
This book is pretty complicated, and it's the first in a trilogy. I was wondering what your planning process was, how you keep track of everything.
The planning process--I guess it's the longest accident ever because it's not something I think about. But at the same time, I'm used to juggling many balls at once. My previous novel and the one before that are also novels with huge casts of characters. So I've always been interested in multiple views and multiple characters and multiple stories and making it all work, mostly because that's the type of novels that I've always been inspired by. You know, Bleak House or Middlemarch or Tolstoy's novels. Stories that are telling more than one story. Another big influence on this novel was Vikram Chandra's Red Earth and Pouring Rain, which is a series of stories that explode on other stories.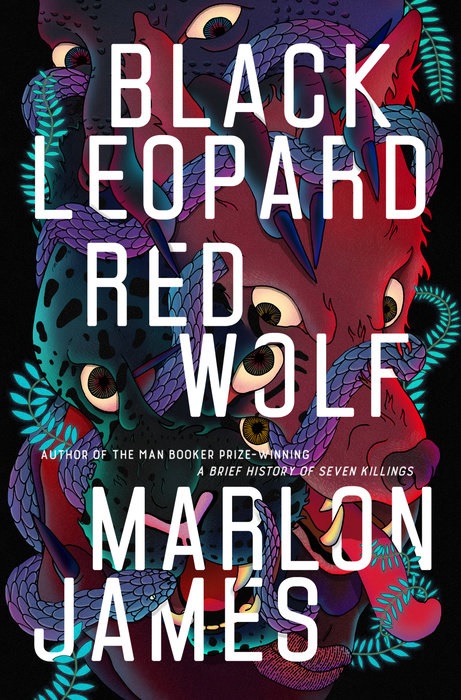 That also meant that I had to have a chart, a notebook where I tried to keep track of everybody. Because I'm not going to remember all of that. And even if I remember, you know, the human mind is a strange thing. Left to my own devices, I would start playing favorites instead of being fair to everybody. So a lot of it I had to track with notes and sticky pads--just as a screenwriter would've. To make sure that everybody gets a three-dimensional representation. Hero, villain, it didn't matter.
But I didn't know it was a trilogy until I realized how I wanted to tell the story. So, it's not a Part One, Part Two, Part Three. Part Two is not going to pick up where Part One left off. Each novel is an eyewitness account. So, Part Two in a lot of ways is a different character basically telling the same story. It's sort of like if Rashomon were three movies instead of one movie.
Tell us how you handled how each character speaks, the different dialects.
Well, I mean, if I'm going to write characters, they have to become real and the easiest way--not the easiest, but the most indicative way that a character feels is how they speak. Dialogue is proof that your characters exist, otherwise it's just the writer's perception of the character. So, dialogue is already important to me, voice is important to me. This story is being told by a person who's speaking aloud, so even before we get to dialogue and accent, it has to be the type of novel that can be read aloud. Because even though you're reading it, technically you're hearing the story. And that's important.
Also, as a writer writing in English, I didn't want to use African languages as some sort of language spice. I'm not trying to give you a smattering of Swahili to feel, "oh it's real, it's authentic." And I also wasn't about to turn Wolof into Elvish, I didn't want to exoticize it. But what I did do was take a hard look at the English language and see how best it could work if it's under a different grammar system, if it's conjugated differently, if different words mean different things, and that's sort of what I took.
For example, in some African languages like Wolof, verbs are always present tense; regardless of when the action is happening, the verb stays present. Which is very much like Jamaican patois. If I'm going somewhere, I say "I go." If I'm going next week I say "I soon go." If I already went I say "I just go" or "I done go." The word "go" remains the same, the verb never stops being present. So, I did things like that, where for some characters in the book, the verbs are always present tense. For some characters, all gender is the same. For some characters, there is no counting system above the number ten, so they never say 11--it's 10 and one. So, that to me is how I kept those languages going, because I had to be true to the world of the story, even more so than the conventions of fantasy.
There are a lot of horrifying, strange creatures in the book. How many of them are from mythology, versus things you dreamt up yourself?
Well, nearly all of them are based on mythology, some of them quite directly, some with me putting some invention on it. But the African mythological universe is so rich, I almost didn't need to invent anything. I didn't really want to. You can write a perfectly thrilling story about werewolves or vampires, both of whom have been in our collective mythology for centuries now. So, I wasn't trying to invent, and I certainly wasn't trying to take credit for any creation. Most of them are based on actual mythical creatures. Just as how I didn't feel the need to reinvent the werewolf, I don't feel the need to reinvent the hyena. --Hank Stephenson, bookseller, Flyleaf Books, Chapel Hill, N.C.

Book Reviews
Fiction

Riverhead, $27, hardcover, 368p., 9780525534761
Liveright, $27.95, hardcover, 384p., 9781631493294
Random House, $27, hardcover, 304p., 9780812998955
Persea, $17.95, paperback, 224p., 9780892554973
Houghton Mifflin Harcourt, $27, hardcover, 400p., 9781328494221
Holt, $28, hardcover, 304p., 9781250197412
Mira, $26.99, hardcover, 352p., 9780778369189
Mystery & Thriller
Dutton, $27, hardcover, 416p., 9781524742089
Science Fiction & Fantasy
Riverhead, $30, hardcover, 640p., 9780735220171
Biography & Memoir

Random House, $26, hardcover, 336p., 9780812988987
Children's & Young Adult

Clarion, $16.99, hardcover, 224p., ages 10-12, 9781328841605
Tor Teen, $17.99, hardcover, 368p., ages 13-up, 9780765399687
Chronicle, $16.99, hardcover, 36p., ages 4-6, 9781452167916
The Conspiracy
by Kat Martin
ISBN:

9781335541895


HQN
January 22, 2019



an exclusive interview with bestselling author Kat Martin

You started your fiction career writing historicals. What prompted your transition to modern thrillers?
"I started with historicals because I love history, had studied it, and felt connected to the genre. But even my historicals had a lot of suspense. When I wrote my first contemporary, there was no such genre as romantic suspense. Publishers said mixing romance with suspense wouldn't work. Only a couple of authors were writing anything like that. I wrote a book called The Silent Rose, a ghost story based on a terrifying incident that happened to my husband and me in a bed and breakfast, which I fictionalized and made into a romantic suspense. My publisher wouldn't publish it. I sold it under a pen name to another publisher for a lot less money. The good news was, the book was nominated for a Rita and has become my all-time bestselling novel—back to press 17 times."
Read the rest of the interview here.

ALSO FEATURED ON THE
the big THRILL…
| | | | | |
| --- | --- | --- | --- | --- |
| | | | | |
THE GIRL IN THE GLASS BOX by JAMES GRIPPANDO: THE GIRL IN THE GLASS BOX—which marks the 25th anniversary of Jack Swyteck, New York Times bestselling author James Grippando's iconic Miami criminal defense attorney—is both a thrilling page-turner and a riveting story about love, family, and survival. Read more at The Big Thrill.
NEXT TO DIE by SOPHIE HANNAH: Sophie Hannan isn't a stand-up comedienne...yet. But she gets to play the part in her newest novel, THE NEXT TO DIE, a chilling murder mystery that explores some deep feelings in relation to real life situations—with a sometimes comedic vibe. Find out more here.
DAUGHTER OF WAR by BRAD TAYLOR: New York Times bestselling author Brad Taylor proves yet again that he has the chops to write an authentic military thriller with his latest Pike Logan novel, DAUGHTER OF WAR. Learn more at The Big Thrill.
THE LINE BETWEEN by TOSCA LEE: If today's headlines give you goosebumps, read Tosca Lee's newest action thriller, THE LINE BETWEEN, in which a cult cast-out becomes the only hope to save the U.S from a deadly virus released from the melting Alaskan permafrost. Visit The Big Thrill for more.
OUT OF THE DARK by GREGG HURWITZ: Hurwitz takes The Nowhere Man on a quest to kill the current President of the United States, a corrupt politician who also happens to have started the Orphan Program—and now wants all traces of it erased. It's the mission that should be impossible. Read more here.